BUY 

2 

Enjoy 

8%OFF

 & 

Free Shipping

BUY 

3 

Enjoy 

12%OFF

 & 

Free Shipping
BUY 4 Enjoy 

15%OFF

 & Free Shipping
Here's a great idea.Put the Christmas train on your Christmas tree!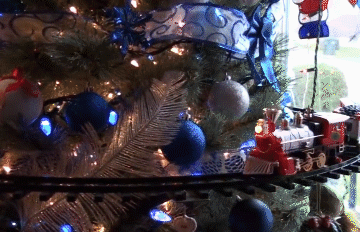 That will bring merriment in the midst of a cold winter! Family and friends alike will love seeing this piece as part of your holiday decorations.
The animated engine car comes with a flashing headlight, and realistic engine sound! The approximately 35 inch diameter track adjusts to fit most artificial and natural trees from 6 ft to 7.5 ft tall. Includes 8 track sections,  engine, caboose, and fuel car. Needs 4 AA batteries, not included. Easy to assemble, no tools required. Recommended for ages 8 and up. Does not smoke. Train is 17 inches long!